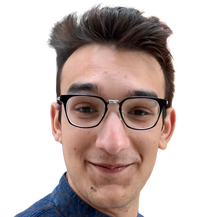 Tibor Tot
Social Media Blogger with +500,000 Views.
Editor/Writer of Short-Form Content for Self-Improvement Brands
My Journey started when I Dropped Out...
...diving headfirst into the greatest uncertainty of my life to discover my purpose & mission.An 18yo takes full responsibility of his life, goes against the grain of society to attain personal freedom by starting the biggest adventure of his life and trusting the things he's learning from the internet (and the universe) to make things work.That's me.Figuring out what to do once giving up the education system for good; I recognized the bedrock of society; and the most needed job in the world.Clear communication."Not the best product wins. Only the best communicated product wins."The Craft of Writing is worth a lifelong pursuit; so I devoted myself to learn from the best Copywriters, Authors and Digital Writers the world has to offer, while improving my Mindset, discovering myself and opening my Heart to the world.Today my Posts on Self-Improvement & being a Dropout gained +500,000K Views on Quora alone, while I continue to live & breathe healthy self-improvement every day. (Because I have no other choice.)Now I'm here to help you make your audience fall in love with your mission and improve their life.Scroll further for my Services.
---
Short-Form is the New Long
The average attention-span is less than that of a goldfish, namely 8 seconds.Proving why short-form content like TikTok are on an extreme uprise.The Internet loves fast.
If you don't grab the reader in the first 1-3 seconds, they'll swipe once more, leaving your important message behind, pushing them into the arms of another Content Creator and losing them into the endless world of Social Media.You need get-to-the-point copy, extra-tight insights and a young Gen-Z who grew up with Social Media and understands your audience.I witness many Brands playing the game of robot-like descriptions, long-delayed Writing and missing the Customer Objections in their sales Page.I can spot this in an instant, because I've analyzed Copy that has worked on ME and the masses.
That's Why I Specialize in Short-Form Content.
I've exclusively written 250-2000 word articles about Lifestyle, Self-Improvement & Growth.
Instagram Post/Reel Captions focused on a Lesson, Insight or Wisdom

Instagram Bios to swiftly present your value within 160 Characters (non-crypto, non-beauty profile)

Podcast Descriptions that stand out in unique fashion and allure your best listeners

About Me Pages relating to your audience and establishing you as a Thought leader

E-Mail Newsletter increasing the depth to your Call to Action, often through Storytelling related to a wisdom, insight or value

Short-Form Blog, LinkedIn or Quora Articles about Mental Health, Growth and Writing

Sales-Page, the last barrier between your audience and your best, unique, hands-on value Digital Product/Service
---
Here's What some of my Clients said...
(And Nicolas Cole, 7x Author, Quora Top Writer and Founder of Ghostwriting Company DigitalPress.)
---
Here's my Offer:
Double or even Triple your Conversion-Rate from the Customer Awareness to Interest-Stage

Stand out like a Vibrant Colorsign to your audience

Share digestible Self-Improvement of up to 2,000 words. (Fitting for SEO's golden Threshold of 800 - 1500 words)

Upgrade your Newsletter with a more personal touch to build trust, deliver more than expected and declare your unique Call To Action

save yourself stress and energy. I myself know the power of outsourcing… When mom cooks, I'm the happiest.
🪙 Let's Flip the Coin!
How do We Know We're NOT Meant for Each Other?
You need an academic Writer who uses academic words (I write to an an average 7th Grade level of education)

You want to charge me per hour. (I charge per project only)

You want to see a degree, certificate or anything other than my experience and client reports. Being a Dropout, I'm wholly based on my efforts and the happenings of the graceful universe
If you feel like charming me, send me a request on my E-Mail: [email protected]
or DM me on Instagram @TheTibor_In love,
TiborP.S.: I work in Deutsch as well! 🥨
---
The Facts.
Some Facts for the more logically-oriented.
2,000+ Hours of Writing Experience

Lifelong Consumer of Video Games, Social Media, Movies & Books since the age of Four

Written & Edited 300+ Short-Form Articles

Fluent in Three Languages (German, English, Hungarian)

Host of a local Book Club aimed at Self-Improvement "The Book Club Mastermind"
---
Proficiencies:
Watching Reels

Playing Competitive Videogames (Currently Multiversus & Apex Legends)

Playing 6 different beautiful-sounding Chords on my Guitar

Critiquing Posts, Scripts & Copy EVERYWHERE

2-Year Experience in Vegan Health & Bodyweight Fitness

iPhone 13 Pro Photography (Check my Insta Highlight!)

Stumbling upon creative ways to optimize your Funnel (Included into my Service by default)